First and foremost, Source2 does not make hiring decisions. Hiring is always the prerogative of our Clients' Hiring Managers. Our objective is to source and screen candidates such that Hiring Managers can have many highly qualified candidates from which to choose. As a partner with our Clients, our dedicated recruiters get to know the preferences of each Hiring Manager and the culture of the Client organization.
Secondly, because all outreach to candidates utilizes the Client's brand and Employee Value Proposition, all engagement with candidates appears to be directly from the Client. As a result, Clients can take the recruiting function back in-house and/or transfer it to another service provider with low switching costs. We have had a few clients that were acquired by larger companies who desired to move all recruiting in-house. Likewise, twice in our long history, we have had clients transfer recruiting from Source2 to another provider. In both cases, the clients returned to Source2 within nine months due to our superior value proposition of agility, speed and delivery of results.
In tight labor markets, the best quality employees will not accept temp or temp-to-perm opportunities given that they have so many options for permanent, full-time employment. Therefore, workers available from temp agencies are often of low quality – i.e., often have problematic histories with respect to productivity, safety, reliability, trainability, coach-ability, dependability, etc. In addition to these very real but often "hidden costs" of using temps, the out-of-pocket recruiting costs are also high – often twice (2 X) the per-hire costs from Source2, as is outlined below.
Partnership is key to success with our clients. Therefore, all client relationships are centered around a dedicated team of Source2 personnel. Correspondingly, we seek to have few, but highly meaningful, client relationships of volume sufficient to warrant a dedicated team allowing department and redundancy. Source2's turnover is extraordinarily low which provides comforting consistency to clients.
Before we make a proposal, Source2 works closely with a prospect to understand the existing recruiting workflow. Once we map the existing process, we then investigate opportunities for improvement, with a focus on reducing waste in the forms of effort, time, excess spending, and mistakes. A simplified example of our process mapping is illustrated below.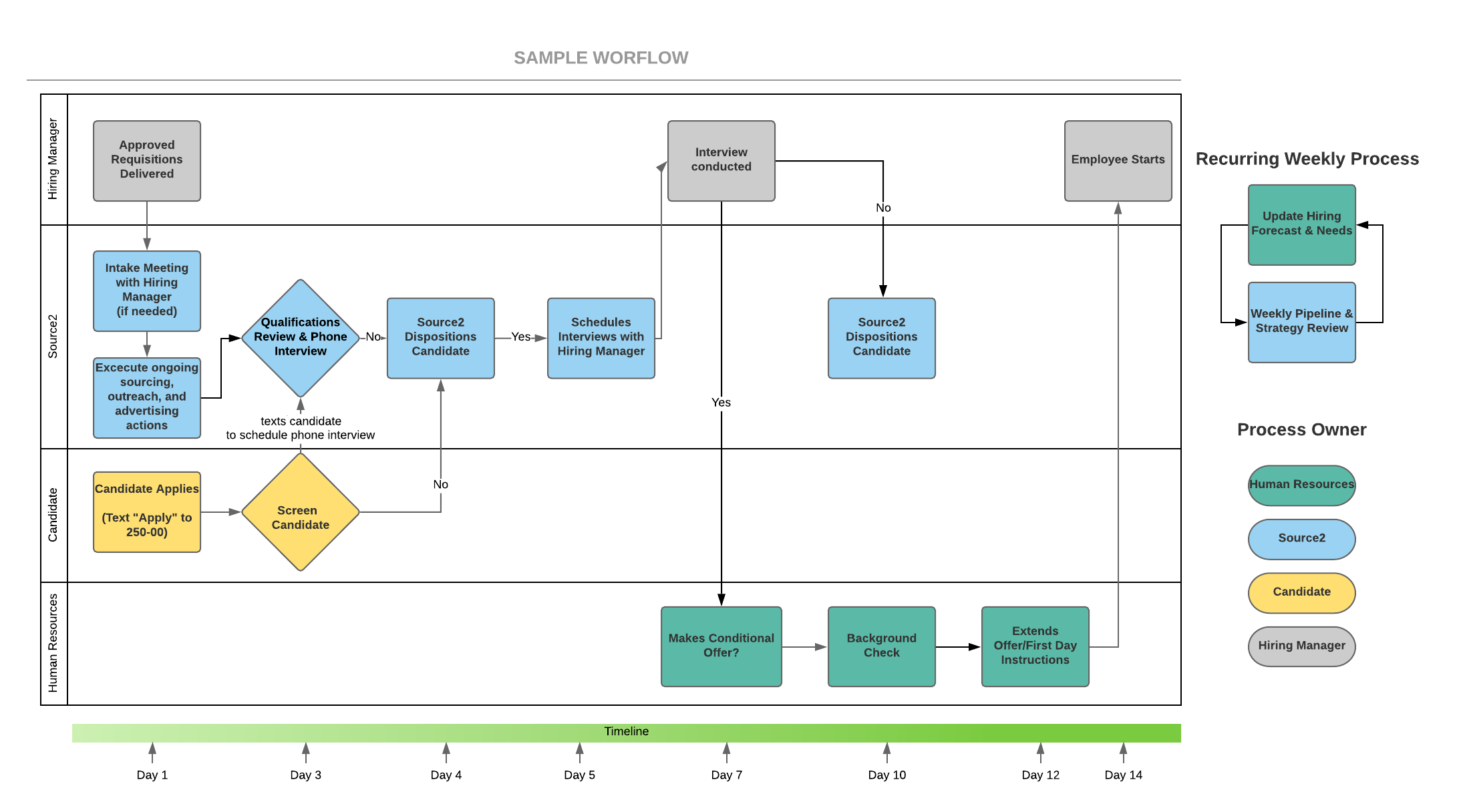 The fact that candidates have so many options, coupled with a generational change in candidate behavior, has resulted in the need to "hand-hold" and shepherd candidates through the recruitment process to address candidate fallout and "ghosting". The below graphic provides just some of the many tasks that are the current reality of the recruitment and hiring process. Chief among these is the active outreach to find "passive candidates".