Recruitment Process Outsourcing (RPO) is a form of business process outsourcing (BPO) where an external service provider assists with or assumes responsibility for some or all recruitment processes, for some or all of an employer's hiring needs.
An RPO firm can provide its own or may utilize the employer's technology, people, methodologies, brand, and/or reporting. RPO services can be delivered remotely or on-site.
What are the core elements of an RPO solution?
A Recruitment Process Outsourcing provider will act as the internal recruitment function, manage the recruitment process, deliver recruiting services, and provide verifiable metrics.
Core services typically include: developing an understanding of job requirements, ensuring sufficient candidate flow (recruitment advertising & sourcing passive candidates), reviewing profiles & resumes, interviewing candidates, delivering best-fit candidates to the employer for final interviewing & the hiring decision, and providing reporting to track progress against goals.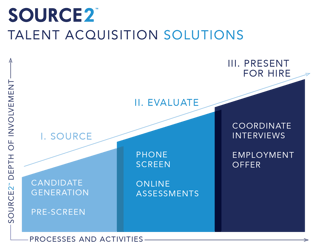 What other services can an RPO provide, assume, or support?
Recruitment Process Outsourcing services can include:
Talent Acquisition strategy and consultation.
Employment branding & promotion.
Recruitment process/workflow design and documentation.
Developing job requirements and postings.
Providing or managing an applicant tracking system (ATS).
Online careers portal & job applications.
Social, mobile, & text (SMS) candidate engagement.
Recruitment advertising.
Career fairs.
Passive candidate research, outreach, and development.
Resume and profile review (pre-screening).
Candidate interviewing.
Online assessments.
Scheduling interviews with candidates and managers.
Extending offers.
Background, drug, and other pre-employment screening.
Compensation and job market analysis.
Employee and/or manager surveys.
Benchmarking and providing recruitment metrics.
How is an RPO different than staffing or retained/contingent search?
In all cases, an RPO differs greatly from staffing and contingent/retained search providers in that an RPO assumes partial or total responsibility for the design and management of the recruitment process, and full accountability for the results.
Often, the primary focus for a staffing or search arrangement is to fill a specific job or set of jobs. Many search arrangements are short-term or project-based in nature. Staffing firms are frequently engaged for temporary or temporary-to-permanent employment needs.
By contrast, quality Recruitment Process Outsourcing firms focus on understanding an organization's long-term strategy, challenges, and goals. Then, a recruitment process is designed to support the desired outcomes. These firms are consultative, flexible, and tightly integrated with the employer's culture, brand, strategy, and people. The best RPO firms focus on driving long-term business results, in addition to getting jobs filled with quality people.
How much does an RPO cost? How does that compare to staffing, search, or doing it in-house?
Staffing firms typically charge a markup on a hired employee's rate of pay ranging between 25% and 65% or more. Contingent search firms typically charge a percentage of a hired candidate's first year compensation ranging between 18% and 30% or more depending on the position. Retained search firms charge an upfront fee, coupled with or in addition to a per-hire of 20% to 30% or more. Retained search firms' total costs can be upwards of 50% of a hired candidate's first year compensation.
The Society for Human Resource Management's (SHRM's) 2016 Human Capital Benchmarking Report found that the average cost-per-hire is $4,129. While this is a good directional estimate for the cost of an internal recruitment function, each organization is different. Click here for a customizable cost-per-hire calculator.
Like other business process outsourcing services, Recruitment Process Outsourcers leverage buying power (aggregating the purchasing of things like recruitment advertising across all of their clients) to drive down unit costs and pass along those savings to customers.
In many cases RPO firms charge a fixed fee in addition to a fee when a succesful hire is made. For high-volume, entry-level positions total RPO fees can be less than 2% of annual compensation. For lower-volume and/or highly-skilled professional/management positions, total costs can be 10%-15% (sometimes more) of annual compensation.
What are the benefits of an RPO?
The benefits of working with an RPO can include:
Improved hiring performance. Trained and experienced staff, focus (recruiting is an RPO firm's primary business), pay-for-performance fees, and access to unique technology & partnerships are ways an RPO can improve hiring performance
Cost savings. Bulk purchasing power, streamlined & proven recruitment processes, and flexibility (costs go down when an employer's hiring needs go down) are three ways an RPO can help reduce costs.
Administrative relief. RPO firms frequently assume time-consuming, but necessary, recruiting activities. This can free-up internal staff to focus on higher value activities and/or positions.
Tips for Achieving Success with an RPO Partner:
Hire a partner that will align the parameters of the relationship to your business goals (i.e. the RPO goes beyond "filling current jobs").
Trust, but verify. Verify that prospective RPO providers have been in the business for a while and have a track record of success. Ask for metrics and references/case studies.
Look beyond the dollars and cents to the big picture. Cheaper isn't always better. An inexpensive staffing solution might be able to find you a shallow pool of candidates through lackluster efforts; a good RPO provider will put forth a great deal of effort to find the right candidates and ensure that a pipeline is developed).
Work closely with the RPO partner. They cannot perform well without participation from all stakeholders on your team.