THE RIGHT PARTNER MATTERS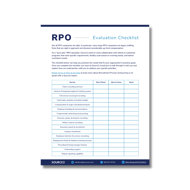 Plenty of vendors offer RPO services, but many of them specialize in different industries and employee segments. When choosing an RPO partner, size and name recognition don't necessarily make them the right fit for your needs.
You must consider what you need versus what they offer, what results are most important to you, and how you prefer the working relationship to feel.