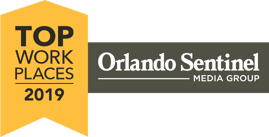 Being in the business of recruiting and retaining great people for our clients throughout the country, it is exceptionally special when we are recognized for identifying talent right here within our four walls. This year, Source2 was named among the top five places to work in Central Florida!
Released annually by the Orlando Sentinel, this survey and award program were designed to identify, recognize and honor the best places of employment in the region – those that benefit the economy, local workforce and area businesses. This year, 80 companies were recognized, with rankings broken down into four distinct categories based on the number of employees in the region. Source2 ranked fifth among small workplaces. This is a huge jump from last year, when we ranked #19 on the same list.
There is perhaps no greater compliment for a company than winning an award like this because it comes as a result of core values, community involvement, and the positive feedback of our people. The award nomination's two-step validation process included both an in-depth evaluation of the company's policies, systems and procedures, as well as a 24-question employee experience survey about the Source2 culture.
If you find yourself looking for ways to increase the number of quality candidates applying for open positions, while also decreasing the time and cost to fill those positions, it may be time to put Source2's expertise to the test. We are happy to talk with you about how our use lean process and technology driven solutions have benefited many companies since Source2's founding 20 years ago.
Visit our Let's Talk About You page to schedule a meeting.