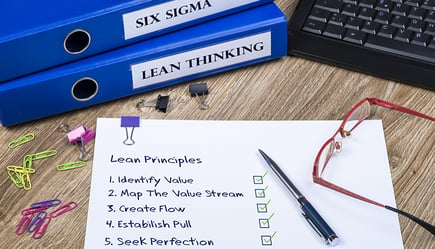 Whether your company is a manufacturer, distributor or service provider (perhaps all three!), there is a good chance that your core operations have been improved by the adoption of "lean" methodologies. Lean techniques are very effective in identifying and eliminating waste in process flows such as excess inventory, wasted effort and time, excess spending, and mistakes.
For some reason, the "lean lens" has rarely been focused on HR processes, particularly recruiting. The fact is, recruiting processes can be improved significantly by the disciplined and exacting evaluation that lean techniques enable.
Source2 is focused on high-volume recruiting and retention engagement. For over 20 years, we have been working as a partner with our clients to source, screen, evaluate and deliver high-quality candidates to our clients' hiring managers. We improve candidate quality, speed up time-to-fill, reduce cost-per-hire and assist in retention.
How do we do it? Using lean methodologies to develop streamlined, technology-enabled processes, Source2 can implement real-time qualification and scheduling, utilizing modern communications tools, as well as AI learning and analytics. We attract higher-quality candidates through technology. We reduce candidate fallout through rapid and consistent engagement. And we unburden HR and operations from the drudgery of shepherding candidates through the recruiting process, enabling them to focus on higher priorities.
If you find yourself looking for ways to make your recruiting and retention efforts run more efficiently, let's talk. We are happy to chat with you about how Source2 can provide a proven, cost-effective, and lean solution for your company.
Visit our home page to learn more about our solutions for better recruiting and retention of top talent.