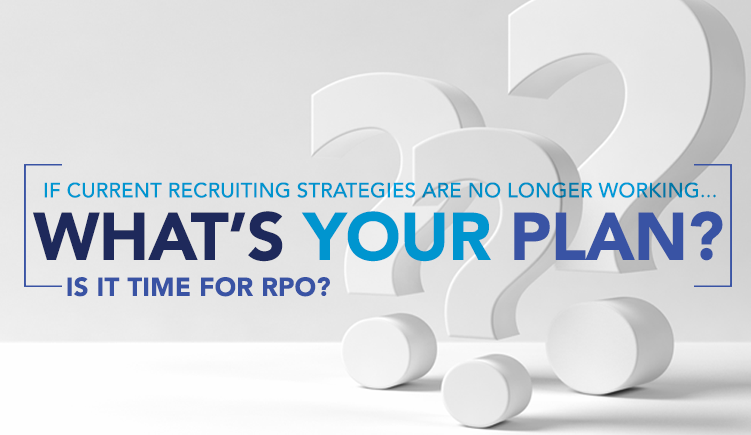 Recent studies show that nearly 42 percent of employees between the ages of 18 to 34 are actively looking for a new job. Losing vital employees can be a big blow to team morale and can also affect your bottom line.
While this loss may be hard to deal with, you need to have a robust recruitment process in place to have an strong candidate pipeline to fill these vacancies in a hurry.
If you are like most Talent Acquisition leaders, you don't have extra time or resources to devote to employee recruitment and hiring processes. This is why using a Recruitment Process Outsourcing (RPO) firm for the recruiting functions of your business is a good idea. The following are some of the signs you need to outsource recruiting immediately.
You Aren't Getting Quality Applicants
The lifeblood of any successful business is knowledgeable and hardworking employees. Trying to find quality applicants on your own can be extremely difficult. In a recent poll, over 62 percent of business owners claimed to have made a bad hire in the past.
Instead of having to deal with the fallout that can occur from a bad hire, you can use a Recruitment Process Outsourcing (RPO) firm to help you out. Once these professionals find out what type of employee you are looking for, they will use their proven recruitment methods to build a strong candidate pipeline to fill your needs.
You Need to Reduce Time to Fill
Did you realize that it takes the average business nearly 27 days to find and hire a new employee? During these 27 days, a lot of productivity will be lost. If you are tired of barely getting jobs completed due to a lengthy time to fill rate, now is the time to call in an RPO professional for help.
Businesses who specialize in acquiring and hiring talented employees have a team of recruiters that focus on key skill sets to assure the right pool of qualified candidates for each client's specific need, plus they specialize in sourcing passive candidates. This means getting a new employee in place in a relatively short amount of time.
There is Competition in the Market for Like Skill Sets
In some industries, finding qualified employees will require a lot of work. For instance, businesses who rely on skilled tradesmen like welders or metal fabricators will have to compete with a number of other companies to fill these positions. Since there is a shortage of skilled laborers in this country, you will need the help of an RPO provider to fill these positions.
Instead of fighting for skilled laborers in a shallow pool, an RPO professional can broaden the search, find candidates you may not and deepen the talent pool available to you. RPO can do this for all position levels and across all industries.
Your Company is Growing Faster Than Current Recruitment Bandwidth
Having a business that is on an upward trajectory can be a good thing. However, the faster your company grows, the harder you may find it to recruit and hire enough employees. If your company growth is overtaking your current recruitment bandwidth, now is the time to call in a reputable RPO provider for help.
Current Recruitment Strategy Isn't Working
If your recruitment strategy is outdated, it will make it very difficult for you to attract and hire top talent. Don't just "settle" for employees because you don't have time to implement new technology or different methods. A knowledgeable and experienced RPO company will have the latest technology, recruitment techniques and strategies in place. This allows them to find employees you may otherwise be missing.
You Need to Reduce Recruitment Costs
Finding a way to reduce operating costs is one of the main concerns of any business owner. Often times, hiring enough employees to staff for all your recruitment and hiring needs can be costly. Instead of taking on the expense of additional employees, a good RPO firm can either work with and supplement your existing team, or take on the recruitment tasks and leave your team time to focus on candidate hiring and onboarding. Not only will these professionals be able to find more candidates for your business, they can reduce the costs associated with the recruiting functions.
If you have one or more of these concerns, then it is time to consider an RPO solutions. Contact us now to discuss how a customized RPO solution can fit your needs.
Jeff Kitchens is an Executive Vice President of Business Development RPO Services for Source2. Jeff brings more than 20 years of RPO experience and management to his position at Source2 as a Principal and Director of Business Development Consultant for leading RPO solutions companies. Schedule a free consultation with him today.