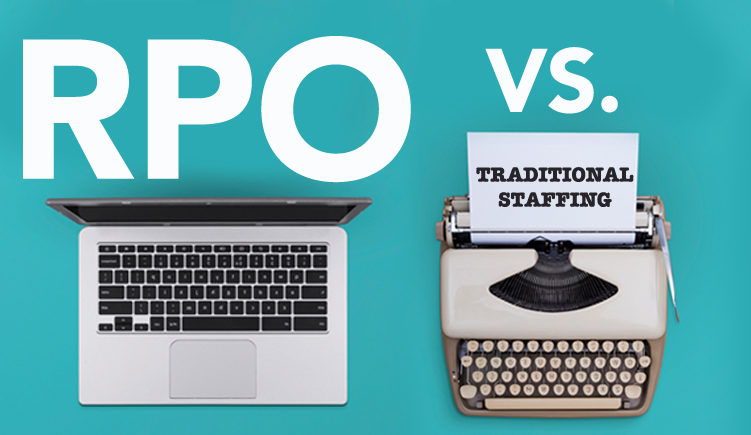 Because Recruitment Process Outsourcing (RPO) is gaining speed as one of the most reliable and cost-effective hiring solutions, businesses have taken notice and are working toward understanding the differences between traditional staffing and RPO.
For example, when you're working with a Recruitment Process Outsourcing firm, you're doing more than filling positions that are open. You're also working toward making improvements to your company's existing hiring process without the need to hire an in-house recruitment team. Traditional staffing firms don't fill in that blank.
Traditional Staffing: Putting a Body in the Chair
When companies work with traditional staffing firms, these companies fill an immediate need to put a body into a position. For example, if a company wants "temp-for-hire" employees because they need a data processor, bank teller, or construction site worker in a day or two, a staffing firm will pull from a pool of candidates waiting to take any opening immediately.
Traditional staffing firms are utilized mostly for their ability to gather a group of people into talent categories who can be deployed based on a client's need. They respond to organizations based on matching up their list of candidates with these job descriptions.
The problem with these firms is that they're everywhere and many businesses have to partner with several of them to help expedite the hiring process or fill multiple types of positions. In the end, positions fill quickly because the staffing firms are trying to beat each other out. While staffing firms are an effective means to an end, they aren't an optimal use for those companies looking for quality hires.
RPO: Produces Quality Hires and Streamlines Business
When companies work with an RPO firm, they become strategic partners throughout the recruitment process. Because the RPO firm is an expert in their domain, they work as an extension of the organization to take on the planning, research, technology, brand and processes. A quality RPO firm can handle some or all the recruitment process for the company and works with the organization to find the best solution for their specific needs. In doing so, the RPO maximizes their staff, methodology, resources, pipelines and technology to find better candidates and create a larger talent pool based on the company's goals.
The company can focus on long-term business strategies because an RPO improves the hiring process while simultaneously streamlining operations. Because quality candidates are the focus, companies can expect more efficient recruitment strategies and higher flexibility.
An RPO acts as a company's extension of their internal recruitment function, thus handling the entire lifecycle of the new hire from sourcing to presenting candidates for hire. RPO makes the quality of hire, the hiring manager, and candidate satisfaction a focus while handling the myriad of tasks and functions necessary to keeping the process working.
Why RPOs Win Out
When human resource departments handle recruiting in-house, these departments must post job descriptions everywhere they can including social media networks and job boards. Upon doing so, they must actively engage with candidates as they respond. It's also their responsibility to research the Internet for quality resumes, identify them, screen new candidates, schedule interviews, and perform onboarding paperwork tasks. The HR department must also perform reference, and background checks, appropriate skill tests, and gauge cultural, personality, and work style fit.
However, when working with an RPO, each of these tasks are treated comprehensively and transparently. Not only does the RPO achieve transformational results, but they do so in a way that saves the company money.
Final Thoughts
The primary difference between an RPO and a traditional staffing agency is that an RPO will work as an extension of your business by branding themselves under your umbrella and offering a seamless candidate experience externally. They provide quality candidates that are specifically screened and selected to fit your position and your culture.
Are you looking for new approaches to your hiring processes? At Source2, we help business owner solve their hiring challenges by customizing our solutions to your recruiting needs.
Jeff Kitchens is an Executive Vice President of Business Development RPO Services for Source2. Jeff brings more than 20 years of RPO experience and management to his position at Source2 as a Principal and Director of Business Development Consultant for leading RPO solutions companies. Schedule a free consultation with him today.