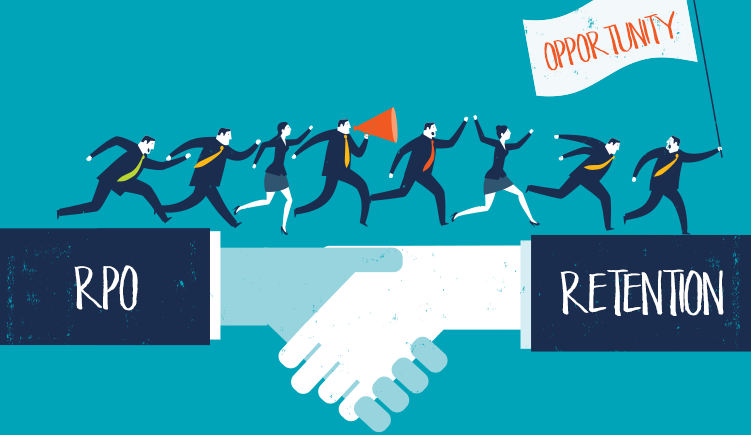 It's easy to believe that money is a motivating factor for top talent looking for a new job. The simple answer to that question is, although it is helpful, it is not always the deciding factor.
Those who are looking for the best jobs are looking for a position that will stimulate and challenge them to remain interested and engaged. Additionally, they want to see a clear path to promotion, as well as other opportunities for career advancement. What this means is that you need to market your company's best attributes not only during the hiring process, but throughout the employee lifecycle.
Engagement and retention are key goals for any business, but those goals are more easily met if you find the best possible candidates to fill positions within your company in the first place. When you work with a Recruitment Process Outsourcing (RPO) firm they take on your brand, goals and needs to bring you a pool of the right people to fulfill company objectives while improving your odds for retention of those who join your team. Here are just a few ways a good RPO firm improves your recruitment and retention efforts:
Good Recruiting Improves Your Candidate Pool
You're missing your best candidates when you're only making selections from those who are answering ads online, or from those who come walking through the door. The best candidates are typically passive candidates who are a good fit for your opening but aren't looking for a new position or are working for someone else. This is an area a top RPO firm excels at.
RPO Benefits
Utilization of a Recruitment Process Outsourcing (RPO) firm varies from company to company based on solution needs, but the overall benefit of outsourcing this function is that it allows your company to attract a bigger pool of candidates, improve the candidate experience and find better talent and culture match for your position. Additional business benefits of RPO include:
1: Operational and Hiring Effectiveness
With an RPO solution in place companies experience streamlined processes in their hiring and operational processes, thus allowing them to attract the best talent more effectively. RPO recruiters have proven systems in place enable them to find candidates that not only fit in with the company's culture, but also the skill sets they need while simultaneously reducing the cost to hire and time to fill.
2: Efficiency Improvements
With the help of an RPO provider, companies will have access to expertise for their business, as well as the latest tools and technological advances. Such tools include text to apply, job posting optimization; advanced Applicant Tracking Systems and other advances in AI and technology to enhance the candidate experience while making the process more efficient.
3: Reduction in Cost
Utilization of an RPO will not only be able to determine your company's cost per hire, but also work to reduce this figure. In addition to attracting and engaging the best talent, an RPO firm is focused on achieving hiring goals in the most cost-effective manner.
More Time and Flexibility for Your Team
The use of an RPO firm will not only find and recruit candidates that are a better fit for your company, it will save your internal team time and resources. RPO allows for scalability and flexibility so your internal team isn't impacted by the ups and downs of your recruiting cycle, allowing for more time to focus on employee retention processes and programs that are critical to keeping the quality team members you hire.
RPO Can Improve Retention
Overall, the key benefits RPO brings to your retention efforts are a larger talent pool of candidates pre-qualified for your position and your culture; early positive engagement during the recruiting process as the RPO firm works as an extension of your company; the ability to scale up or down with no change to amount or timeliness of candidate engagement; and more time for internal team to devote to retention goals and programs.
For more than a decade, Source2 has worked with clients who want to streamline their recruiting processes so they can focus their efforts engagement and retention. Contact us now to discuss how a customized RPO solution can fit your needs.
Jeff Kitchens is an Executive Vice President of Business Development RPO Services for Source2. Jeff brings more than 20 years of RPO experience and management to his position at Source2 as a Principal and Director of Business Development Consultant for leading RPO solutions companies. Schedule a free consultation with him today.