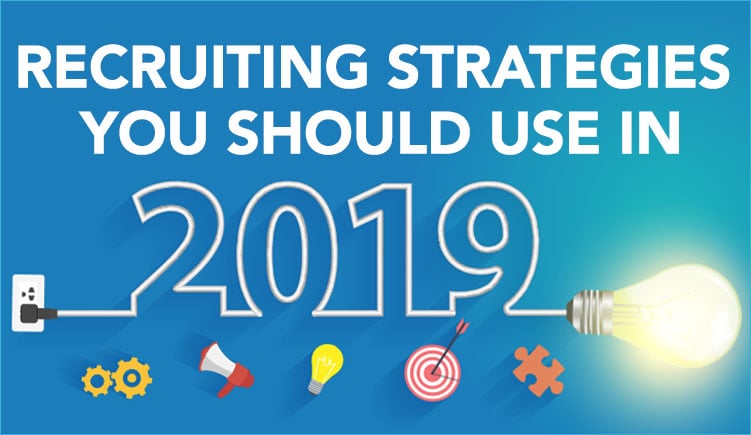 According to a study conducted last year, recruiters believed they were experiencing a candidate-driven labor market. Findings in this same study revealed that 62% of employers were in agreement by stating employment was being driven by top talent within their segmented markets. What does this mean for average employers looking to fill their job openings during 2019?
Because it's critical not only to fill current positions but also meet growth goals for the future, employers must look for the latest ideas to incorporate in their recruiting strategies including trends, technology, and new methods to stay ahead of the curve in 2019. Determining where to begin is the first step.
Embrace the Reality of the Situation
Because the U.S. unemployment rate is experiencing its lowest percentage in approximately eighteen years, there are more job openings for job seekers than ever before. So, what can employers do to attract potential candidates to fill these job openings? By embracing the reality of the situation and thinking about how candidates are spending their time looking for jobs, they can better reach their targets.
Here are some strategies that will help them better achieve these goals for 2019:
Online Profiles are a Must
Research indicates that, when candidates are performing a job search, 79% of them will review social profiles. Therefore, companies can attract top talent by portraying their company culture and presenting an appealing online environment. Be sure your online reviews, website, and social media deliver an accurate depiction of your company's message, mission, and vision.
Artificial Intelligence Attracts Top Talent
The job market is significantly impacted when artificial intelligence plays a role in a company's business practices. Take the positive impacts the UK's office employees are already experiencing. During 2017, 66% their office employees requested AI assistance for accomplishing their daily tasks. Utilization of this technology will have a positive impact on how employers are filling job openings not only because it requires a different skill set but also because predictions indicate that employers will begin relying on AI more over the next fifteen years. Source2 RPO is an early adopter of using this technology for recruiting to help clients find better matches for their open positions as well as an increase in the number of quality candidates for those positions.
Develop a Flexible Work Environment
According to Deloitte's seventh annual Millennial Survey, "62% of millennials who would willingly leave their employers within the next two years regard the gig economy as a viable alternative to full-time employment." Therefore, the need for companies to develop flexible or remote workstations is on the rise. In addition to creating opportunities for candidates to work outside of the organization's location, the need to utilize video interviewing tools is also becoming a reality. In doing so, candidates can see the company's commitment to providing seamless solutions to remote working options.
Staying Relevant is the Key to Success
When companies work toward implementing recruiting strategies for attracting top talent, that's just the beginning. It's critical for employers to also remain relevant in a constantly changing labor market by embracing each of these strategies and staying ahead of the learning curve. In doing so, relationship building will continue to cultivate, and utilization of interview tools will help locate talent quicker.
Outsourcing Recruitment Functions
Finding a way to reduce operating costs is one of the main concerns of any business owner. Often times, hiring enough employees to staff for all your recruitment and hiring needs can be costly. Recruitment Process Outsourcing (RPO) allows busy high-growth companies to offload some or all the recruitment processes, freeing up internal resources and reducing their cost per hire. Instead of taking on the expense of additional employees, a good RPO firm can either work with and supplement your existing team, or take on the recruitment tasks and leave your team time to focus on candidate hiring and onboarding. Not only will these professionals be able to find more candidates for your business, they can reduce the costs associated with the recruiting functions.
For those who experience challenges with these trends, technologies, and ideas, receiving help from recruitment process outsourcing professionals is an excellent option to consider. Utilization of an RPO service works by providing solutions for company's seeking customized solutions for their recruiting challenges. Therefore, because they're already experienced with the technologies and trends expected for 2019, they can lay the proper groundwork necessary for filling these job openings.

Lynette Stokes is a Senior Engagement Specialist with Source2, experienced in offering solution recommendations that solve the challenges of clients with a focus on improved performance, flexibility and cost effectiveness.

Schedule a

free consultation

with her today.