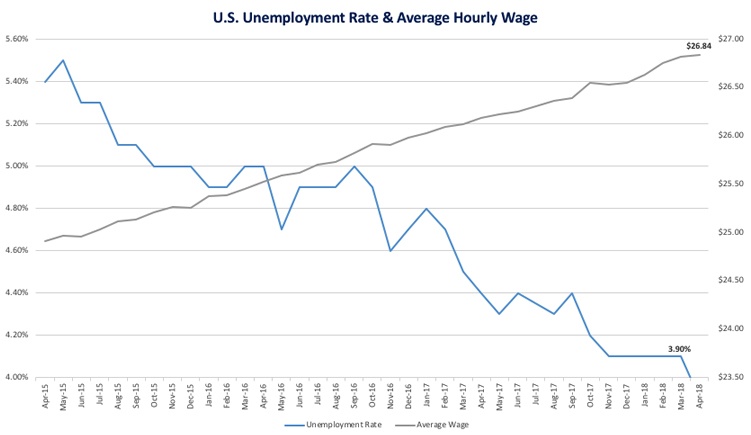 What is the U.S. Unemployment Rate for April 2018?
According to the U.S. Bureau of Labor Statistics (BLS), the U.S. national unemployment rate (seasonally adjusted) for April 2018 was 3.9%. This is down 0.2% from March 2018 following no change since October 2017.
What is the average U.S. Hourly Wage as of April 2018?
According to the U.S. Bureau of Labor Statistics (BLS), the U.S. average hourly wage for April 2018 is $26.84, which is a $0.10 per hour jump from just two months ago and a $0.67 per hour increase during the first four months of the year.
Source2 Outlook:
The unemployment rate edged down to 3.9%, the lowest unemployment rate since December 2000 (4.0%). The economy needs to add a minimum of 150,000 new jobs each month to keep up with growth predictions. Employment increased by 164,000 in April, barely keeping up with the need. What's more concerning is the number of open jobs is at a record-high 6.55 million, surging 472,000 since February alone, to be almost equal to the current number of unemployed workers (6.585 million).
What does this mean to employers?
The tight labor market just got squeezed even more, and the need for workers will continue to be a top concern for companies looking to hit their growth plans and goals. No relief appears to be in sight as a declining supply of workers that include an aging workforce and negative immigration is only going to make it harder. Finding the right resources has never been more important to keep the talent pipeline open and to assure that those that are hired stay.
About the Report
Source2's Monthly U.S. Unemployment Rate & U.S. Average Hourly Wage report makes it easy to quickly see the latest numbers from the U.S. Bureau of Labor Statistics' Current Employment Statistics (CES) surveys. Click here to download an excel spreadsheet with three years of data in cell and chart formats, or click here for a one-page pdf snapshot to print and share.



References
U.S. Unemployment Rate (Seasonally Adjusted) http://data.bls.gov/timeseries/LNS14000000

U.S. Average Hourly Earnings - All Private, Nonfarm (Seasonally Adjusted) http://www.bls.gov/news.release/empsit.t19.htm
David Nuxol is the President and CEO of Source. David has nearly 30 years' experience as an executive in the outsourcing and recruitment industry. Schedule a free consultation with him today.