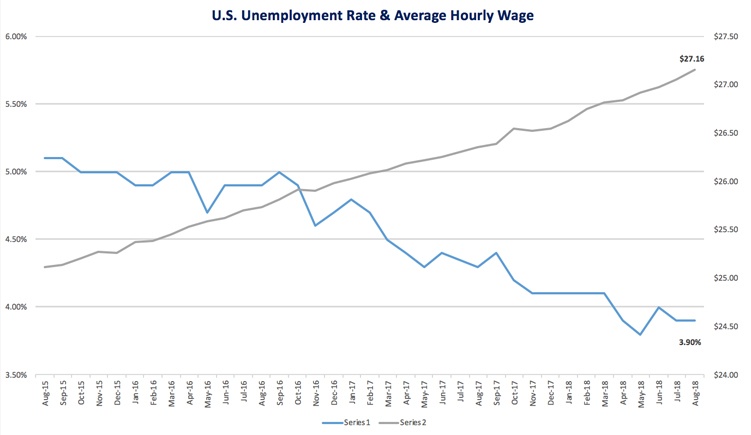 What is U.S. Unemployment Rate for August 2018?
According to the U.S. Bureau of Labor Statistics (BLS) the U.S. national unemployment rate (seasonally adjusted) for August 2018 is 3.9%, no change from last month.

What is the average U.S. Hourly Wage as of August 2018?
According to the U.S. Bureau of Labor Statistics (BLS), the U.S. average hourly wage for August 2018 is $27.16 which is an additional $0.11 per hour jump from last month and a $1.43 increase year-over-year.
Source2 Outlook:
There was little change in August as the unemployment rate remained at 3.9 percent and the number of unemployed persons stayed at 6.2 million. Total nonfarm payroll employment increased by 201,000 in August, the U.S. Bureau of Labor Statistics reported today. Job gains occurred in professional and business services, transportation and warehousing, health care, wholesale trade and mining. Labor force participation rate, a key factor in the employment situation, hovered near 96,000 which was almost no change year-over-year, meaning there are still a significant number of people deciding not to enter the workforce at this time continuing the shortage of workers, especially acute in the metropolitan areas of the country. We predict that more part-time employees will become full-time employees to fill in this gap.
What does this mean to employers?
Over the past 12 months, hires totaled 66.6 million and separations totaled 64.1 million, yielding a net employment gain of 2.5 million. When the number of hires exceeds the number of separations, employment is rising indicating a continuation of the current employee-driven marketplace. Employers will continue struggling to find enough candidates to fill pipelines for current openings, let alone for growth. Worker shortages will be a problem especially in the trades as that workforce ages out. More and more companies will have to utilize out-of-the-box ideas and new partners to find the number of workers needed to hit targets for both sustainability and growth models. In a tight labor market where you need top talent, now is the time to turn to RPO. Source2 RPO can broaden the search, find candidates you may not and deepen the talent pool available to you. RPO can do this for all position levels and across all industries.
About the Report
Source2's Monthly U.S. Unemployment Rate & U.S. Average Hourly Wage report makes it easy to quickly see the latest numbers from the U.S. Bureau of Labor Statistics' Current Employment Statistics (CES) surveys. Click here to download an excel spreadsheet with three years of data in cell and chart formats, or click here for a one-page pdf snapshot to print and share.




References
U.S. Unemployment Rate (Seasonally Adjusted) https://data.bls.gov/timeseries/LNS14000000
U.S. Average Hourly Earnings - All Private, Nonfarm (Seasonally Adjusted) https://www.bls.gov/news.release/empsit.t19.htm
Those Not in the Workforce https://www.bls.gov/web/empsit/cpseea38.htm
Jeff Kitchens is an Executive Vice President of Business Development RPO Services for Source2. Jeff brings more than 20 years of RPO experience and management to his position at Source2 as a Principal and Director of Business Development Consultant for leading RPO solutions companies. Schedule a free consultation with him today.