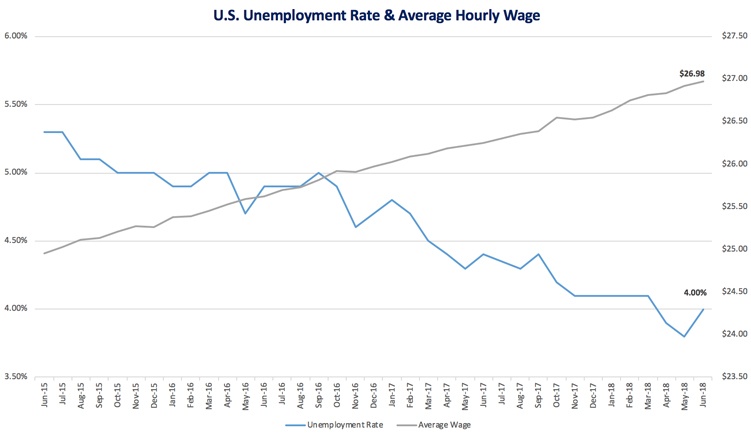 What is U.S. Unemployment Rate for June 2018?
According to the U.S. Bureau of Labor Statistics (BLS), the U.S. national unemployment rate (seasonally adjusted) for June 2018 was 4.0%, up 0.02% from last month. This is the first time the rate has moved up since July 2017.
What is the average U.S. Hourly Wage as of June 2018?
According to the U.S. Bureau of Labor Statistics (BLS), the U.S. average hourly wage for June 2018 is $26.98, which is an additional $0.05 per hour jump from last month and a $0.80 per hour increase during the first half of the year.
Source2 Outlook:
There is an increase in labor force participation, which rose from 62.7% in May to 62.9% in June. This uptick in people joining the workforce — there were 601,000 new entrants to the labor force in June — pushed up the unemployment rate. Average hourly earnings increased by 0.2% over the prior month and 2.7% over the prior year.
June was another strong month for the manufacturing sector, which added 36,000 jobs during the month after approximately half that amount had been added in May. And as has been seen in previous months, professional and business services as well as education and health services were the sectors that saw the largest increases in employment, with 50,000 and 54,000 jobs added in these sectors respectively. The solid 213,000 gain in non-farm payrolls in June, which followed an even stronger 244,000 rise in May, illustrates that labor market conditions remain unusually strong.
What does this mean to employers?
The increased labor force participation combined with a lack of accelerating wage growth during June indicates a labor market that still has enough slack remaining to pull in new workers who had been disengaged from the workforce. Despite increasing talk about the economy being near full employment, hiring continues to grow.
About the Report
Source2's Monthly U.S. Unemployment Rate & U.S. Average Hourly Wage report makes it easy to quickly see the latest numbers from the U.S. Bureau of Labor Statistics' Current Employment Statistics (CES) surveys. Click here to download an excel spreadsheet with three years of data in cell and chart formats, or click here for a one-page pdf snapshot to print and share.




References
U.S. Unemployment Rate (Seasonally Adjusted) https://data.bls.gov/timeseries/LNS14000000
U.S. Average Hourly Earnings - All Private, Nonfarm (Seasonally Adjusted) https://www.bls.gov/news.release/empsit.t19.htm
Those Not in the Workforce https://www.bls.gov/web/empsit/cpseea38.htm
New Job Creation https://www.thebalance.com/jobs-report-monthly-employment-growth-statistics-3305732
Lynette Stokes is a Senior Engagement Specialist with Source2, experienced in offering solution recommendations that solve the challenges of clients with a focus on improved performance, flexibility and cost effectiveness. Schedule a free consultation with her today.