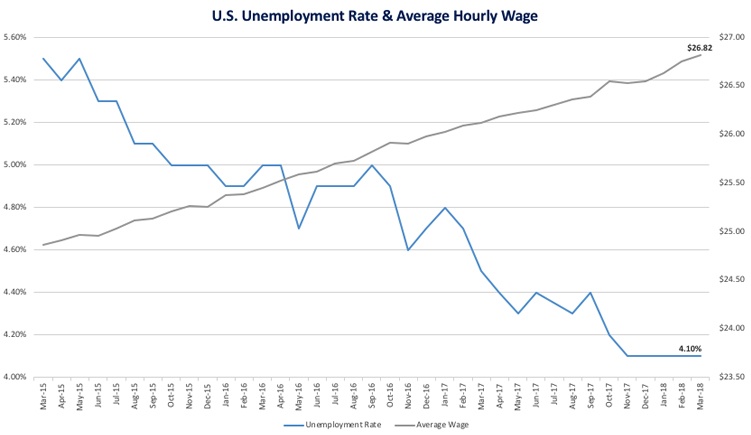 What is U.S. Unemployment Rate for March 2018?
According to the U.S. Bureau of Labor Statistics (BLS), the U.S. national unemployment rate (seasonally adjusted) for March 2018 held steady at 4.1%, reflecting no change since October 2017. The number of unemployed persons held steady at 6.6 million.
What is the average U.S. Hourly Wage as of March 2018?
According to the U.S. Bureau of Labor Statistics (BLS), the U.S. average hourly wage for March 2018 was up $0.07 from February. The average hourly wage in March 2018 was $26.82.
Source2's Employment Outlook
The U.S. non-farm economy added 103,000 jobs in March, which was considerably lower than projections. Employment gains were most noteworthy in manufacturing, mining and business services. Slight declines were noted in retail and construction. We continue to see across-the-board gains in employment, and all our clients are experiencing gains in job openings. While monthly numbers can change (sometimes dramatically) from month-to-month, the trend is definitely up, and we see no reason that this will change anytime in the near future.
What does this mean to Employers?
Competition for employees is fierce. While monetary compensation is important, there are limits to what employers can competitively pay. A "best-of-breed" employer should be looking at other competitive advantages such as work-life balance. This can mean providing flexible working hours, offering the ability to work remotely, and even making your onboarding process quick and efficient. Prolonged onboarding can lead to employees taking other offers. Finally, make sure to communicate ALL your benefits and how they will meet your employee's needs.
About the Report
Source2's Monthly U.S. Unemployment Rate & U.S. Average Hourly Wage report makes it easy to quickly see the latest numbers from the U.S. Bureau of Labor Statistics' Current Employment Statistics (CES) surveys. Click here to download an excel spreadsheet with three years of data in cell and chart formats, or click here for a one-page pdf snapshot to print and share.




References
U.S. Unemployment Rate (Seasonally Adjusted) https://data.bls.gov/timeseries/LNS14000000
U.S. Average Hourly Earnings - All Private, Nonfarm (Seasonally Adjusted) https://www.bls.gov/news.release/empsit.t19.htm
Those Not in the Workforce https://www.bls.gov/web/empsit/cpseea38.htm
New Job Creation https://www.thebalance.com/jobs-report-monthly-employment-growth-statistics-3305732
Cliff Edahl is Executive Vice President of Source2, a national recruitment process outsourcing company. Cliff has has extensive expertise in talent acquisition strategies particularly for voice/data infrastructure, manufacturing, utility, and government entities. Schedule a free consultation with Cliff today.