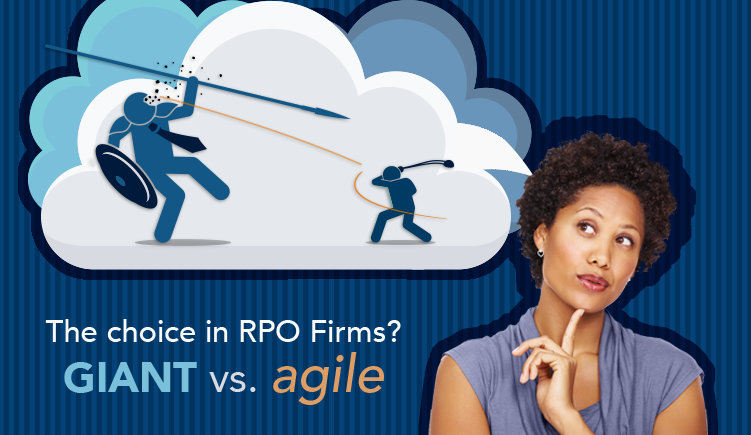 Having the right team in place is the cornerstone of any successful business. Yet, trying to find and hire qualified candidates can be a lot harder and take more time than you may think.
In some cases, an inefficient hiring process may inadvertently cause you to drive away prospective employees before you even get a chance to see them. In a recent survey, over 60 percent of the people polled 1 claimed to have quit a job application process due to it being too lengthy or difficult.
Instead of trying to wrangle a complicated and cumbersome process to find and hire new employees using a system that may not be built for it or hasn't been updated to today's standards, an outside professional service may be the best solution to remove the burden from your team, improve your processes and cut costs you may not even know existed.
Recruitment Process Outsourcing (RPO) is a form of business process outsourcing (BPO), where an external service provider assists with or assumes responsibility for your recruitment processes, as well as for some or all of your hiring needs.
An RPO firm provides the people, technology, latest recruiting methodologies, and acts as your internal recruitment function by managing the recruitment process, delivering qualified candidates, and providing verifiable metrics – without any disruption to your team's workload.
Working with a qualified RPO company is essential to achieving success along the entire recruiting and hiring continuum. Not all RPO companies are built the same, however, and there are key advantages that come from finding the right provider. RPO firms fall into two categories: 1) Lean, agile boutique firms specializing in RPO and specific industries; and 2) Giant lumbering national firms that have RPO as just one of their services. The following are some of the advantages to working with a boutique Recruitment Process Outsourcing provider rather than a giant national firm.
Get the Personalized Attention You Deserve
Working with a giant RPO firm can make you feel like just another number, and that's because you are. Giants tend to look at metrics such as how many candidates in and how many hires out as the basis for success. Their one-size-fits-all plan may not be what is best for your particular hiring needs, nor do they offer flexibility for when your workforce needs change.
This "universal" approach to hiring is often ineffective and frustrating for business owners. Despite claiming to be flexible, large firms tend to have difficulty working outside of their standard procedures and give very little thought to the goals of the organization they work for. They are goal-driven for their numbers, not yours.
Leaner, more agile boutique RPO firms thrive in achieving client goals. There is no set plan to start with, only proven ideas waiting to be fine-tuned into a tailored solution that best fits your organization's needs. A boutique RPO provider gives personalized attention to your team, your goals, and your hiring needs from the beginning by spending time listening and nurturing the relationship during the crucial learning and intake process.
Once all the data has been collected and all the goals set, a boutique RPO firm sets their team to work immediately. They start by reaching out to their networks and jump-starting proven recruiting processes, to build an extensive list of qualified candidates. The latest technologies and platforms are deployed and used to track candidates through the pipeline, as well as leveraging social apps and channels to broaden their reach. A boutique RPO firm is flexible and can scale up when demand rises, or scale down for workload changes. Every step is personalized to your company and your business goals to assure you get the qualified employees you need when you need them.
A Pool of Exceptional Talent
Oftentimes boutique RPO firms are focused on specific industries. Finding a firm that has experience and expertise in your industry means that provider already has a large pool of exceptional talent to choose from through the cultivation of those industry connections in the past. The personal side of a boutique RPO firm means they not only develop relationships with their clients, but with their talent as well. These relationships are important when it comes to ensuring the right employees are placed into the right positions within a company.
Giant RPO firms rarely have relationships with existing talent or talent pipelines. They are focused on getting the highest number of candidates rather than the most qualified. This can make it difficult to find the right team members for your open positions, and you may instead end up with a lot of applicants, but they may not necessarily be the best fit.
Large RPO firms are rarely interested in partnering with their clients. Most are structured with an all-or-nothing set of rules. Either they take on all of the recruiting and all of the hiring, or they aren't involved at all. A smaller more agile boutique firm is willing to discuss your needs and the level of assistance your organization requires. If you want recruiting help, but want to do the hiring yourself, that is fine. If you want recruiting, screening and hiring help, that can be done, too. A boutique RPO will ensure the relationship is flexible and personal – some or all of the recruiting, some or all of the hiring – it's the client's choice as every option is designed to streamline processes, cut costs and lighten your workload.
Lower Cost of Hiring
For most business owners, no matter their end goal, staying on budget is always top of mind. Typically, a boutique RPO provider is able to provide you with higher quality employees at a lower cost per hire. How? Boutique RPOs by nature are leaner, leverage their resources and technology, aggregate advertising costs and simply do not have the massive overhead that giant RPO firms have.
These lower operating costs and leaner management practices drive down unit costs, which are then passed on to the client giving them better quality hires for less money.
Tips for Achieving Success with RPO
Before choosing any RPO provider to work with, it is advised that you schedule a consultation to determine the level of service and personal touch your organization will benefit from. During this meeting, you should be able to accertain what services the firm can offer and how much they are going to charge for the services you need.
At Source2, we are committed to helping you achieve your recruiting and hiring goals. We offer truly personalized solutions that are smart, scalable, flexible and cost-effective and are always happy to talk.
1. https://www.officevibe.com/blog/12-recruiting-stats
Jeff Kitchens is an Executive Vice President of Business Development RPO Services for Source2. Jeff brings more than 20 years of RPO experience and management to his position at Source2 as a Principal and Director of Business Development Consultant for leading RPO solutions companies. Schedule a free consultation with him today.